Functionality and design may have always been top considerations for homeowners, but today, eco-friendliness and energy efficiency are becoming the top priorities.
From the materials used in the build and design phase to the long-term sustainability and energy conservation of appliances, there are many ways to improve your kitchen to make it more environmentally friendly.
Low-flow faucets
Did you know that low-flow faucets can substantially lower your kitchen's water usage? The best part is that you will hardly notice the difference. When buying faucets, look for "water-saving faucets" or those with an adjustable flow rate. Environmentally friendly models can significantly reduce water usage within your home.
Smart kitchen appliances
Not only do old appliances make your kitchen look outdated, but they also consume more energy. Upgrade your dishwasher and refrigerator to Energy Star certified models that will preserve electricity and water. Skylights, ventilation fans, kitchen hoods, and ceiling fans are a few other items you can add to your list of ideas for energy-efficient kitchen improvements.
Kitchen Remodeling Contractors
In some cases, changing appliances will require changing the structure of the space. This can be a great opportunity to change the floorplan in a way that opens up space and maximizes your interior square footage. The Best Kitchen Remodel requires the best contractors and designers, and Inspired Remodels has been known for just that. They are licensed remodeling contractors, based in Orange County, California, who showcase proof of their incredible renovations on their website. They offer full interior remodeling and custom carpentry, which is often necessary to change your kitchen into a more energy-efficient or eco-friendly configuration. 
LED lighting
There are a few different levels of energy efficiency in home and kitchen designs. One tiny step that homeowners can take towards a greener home is replacing their light bulbs. Make the change today and replace your bulbs with energy-efficient lighting that uses Light Emitting Diodes (LED) lights that can also last longer. Due to the popularity of LED technology, regular light bulbs are in the process of being phased out and likely won't be available on store shelves in the near future. They also work better for accent lighting, which looks stunning, instead of general or ambient lighting. For a more modern look, consider track lighting on the ceiling or under your kitchen cabinets. If you have any specialized cabinetry in your kitchen, these types of lights can really accentuate the architecture and design.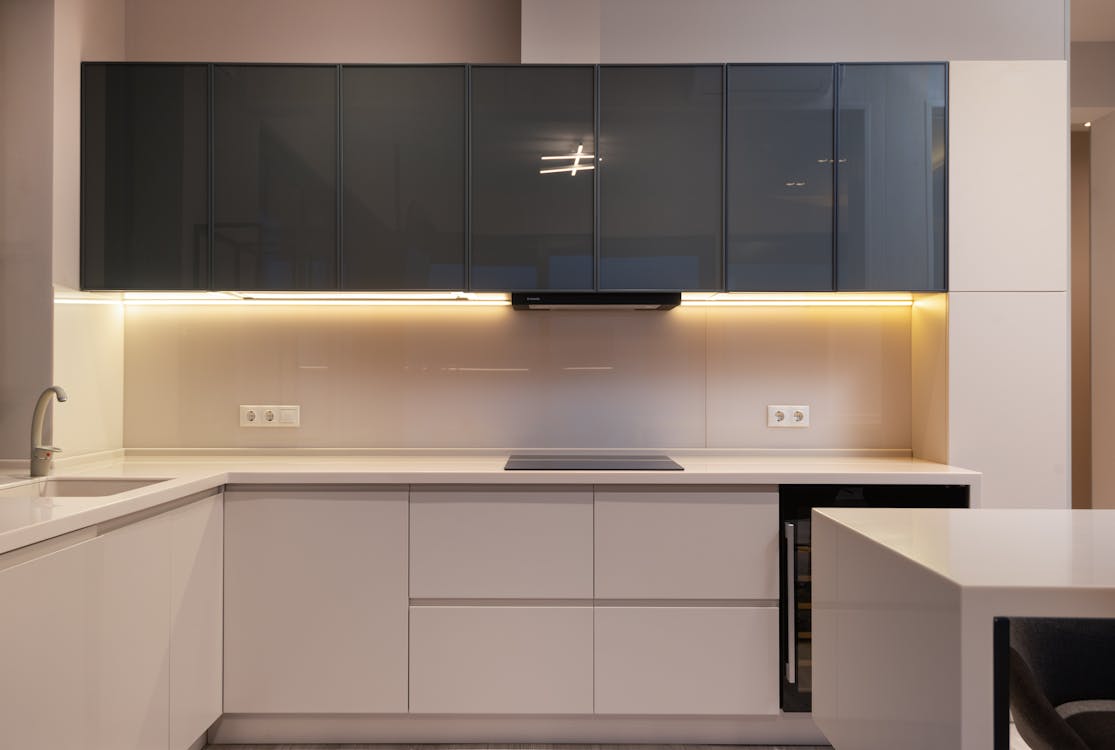 Potted plants
Potted plants are nature's gift to homeowners, especially for those days or seasons when we can't go outside to enjoy nature. As working from home grows more popular than ever before, many employees are finding themselves working from the kitchen table or kitchen counter. The time homeowners can now save without having to commute to work offers a bit of extra time to plan and execute renovation plans. Houseplants can completely transform and refresh any space. If you aren't an experienced plant owner, be sure to thoroughly research the care requirements for the plants you intend to give a home to. Each plant requires a different amount of water, nutrients, sunlight, and soil.